While the majority of luxury brands operating in China have opened WeChat Official Accounts, many of them are still reluctant to run their businesses entirely on WeChat, instead opting to drive their subscribers to external websites and e-commerce platforms. However, WeChat doesn't make this easy to do, blocking links from certain platforms and enforcing strict rules about how and where external links can be placed. This article summarizes the main restrictions and suggests alternatives.
WeChat is without a doubt the most important mobile app in China and it has already successfully penetrated the daily life of almost everyone in the country. Although WeChat is continuously improving their user experience, from a digital marketer's perspective, there's still a long way to go.
One of the biggest headaches for Official Account users is the complicated rules surrounding external links. While a lot can be done within WeChat, many brands and marketers still want to take users to external websites for various purposes such as campaigns and e-commerce, however, this is much easier said than done. WeChat has a number of restrictions on external links, primarily related to either the link content or the source of the link.
In this article, we've summarized some key points about external links on WeChat, so you can use them to their fullest and make sure they're not blocked by WeChat.
---
Official rules and regulations
WeChat has its own rules and regulations related to external links and specifies ten types of content with external links that may be blocked. Here is the English translation:
Content that forces or entices users to share something (e.g. a WeChat article) in order to proceed to the next step, like getting information, winning a prize or taking part in a campaign; sometimes with benefits provided, including but not limited to cash, coupons, discounts and prizes
Content that forces or entices users to follow an official account in order to proceed to the next step, like getting information, winning a prize or taking part in a campaign
H5 games and tests that entice users for interactions, including friend Q&A, personality tests, online fortune telling or prediction games, etc.
Fraudulent content, including fake red packets or campaigns, and content that imitates the style and domain name of otherWeChat articles and accounts and may cause confusion
Rumors or false information that may cause harm to individuals, corporations, or other institutions
Spam, ads, and junk content, including information about counterfeit goods, ads making fraudulent claims, ads for cryptocurrencies, etc.
Content with sensational, exaggerated, or misleading headlines that don't match the content as well as pornographic, erotic, and vulgar content
Content designed for the collection of users' personal data or information without the user's knowledge or consent
Content soliciting donations to religious organizations
Content offering payment for votes
According to WeChat's regulations, once found, these external links will be blocked immediately and the related official account may also be sanctioned. In the worst case scenario, this can lead to a permanent ban.
---
Content from other platforms that's blocked by WeChat
In addition to external links linked to kind of content listed above, WeChat also blocks content from some other social media and e-commerce platforms. Usually, links from these platforms can't be opened within WeChat. Instead, the user will be asked to open the link in another browser like Safari or Chrome. Many users find this cumbersome and fail to execute the link, affecting conversion rates.
So, which platforms are blocked on WeChat?
Taobao and Tmall
Taobao and Tmall are the largest e-commerce platforms in China. However, links to both platforms are blocked on WeChat because they are both operated by Alibaba Group, Tencent's major competitor.
Toutiao
Toutiao is a news aggregation platform that recommends news to individual users based on artificial intelligence that analyzes their preferences. It also allows individuals and media organizations to create official accounts to self-publish, which is similar to how official WeChat accounts function. According to statistics from Analysys, Toutiao had accumulated over 250 million monthly active users by January 2018.
In early March this year, some users reported that the articles they had shared from Toutiao on Moments could not be seen by other WeChat users. Later, WeChat responded that these links were blocked because they contained content that enticed users to share, which had violated relevant rules and regulations.
Some skeptical voices noted that the articles actually didn't contain any content encouraging users to share and that there must be other reasons for the filtering. In January, Toutiao announced that it would start to ban users from promoting their official Weibo and WeChat accounts or directing users to these platforms. It also banned links to e-commerce websites including Taobao and Weidian.
WeChat and Toutiao, as competitors in the mobile information flow sector, are increasingly reluctant to direct their users toward each other's sites.
Short video platforms
Content from some popular short video platforms has reportedly been banned on WeChat and QQ since the end of March this year. Affected platforms include Douyin, Kuaishou, Xigua Video (????) and Tencent's Weishi (??).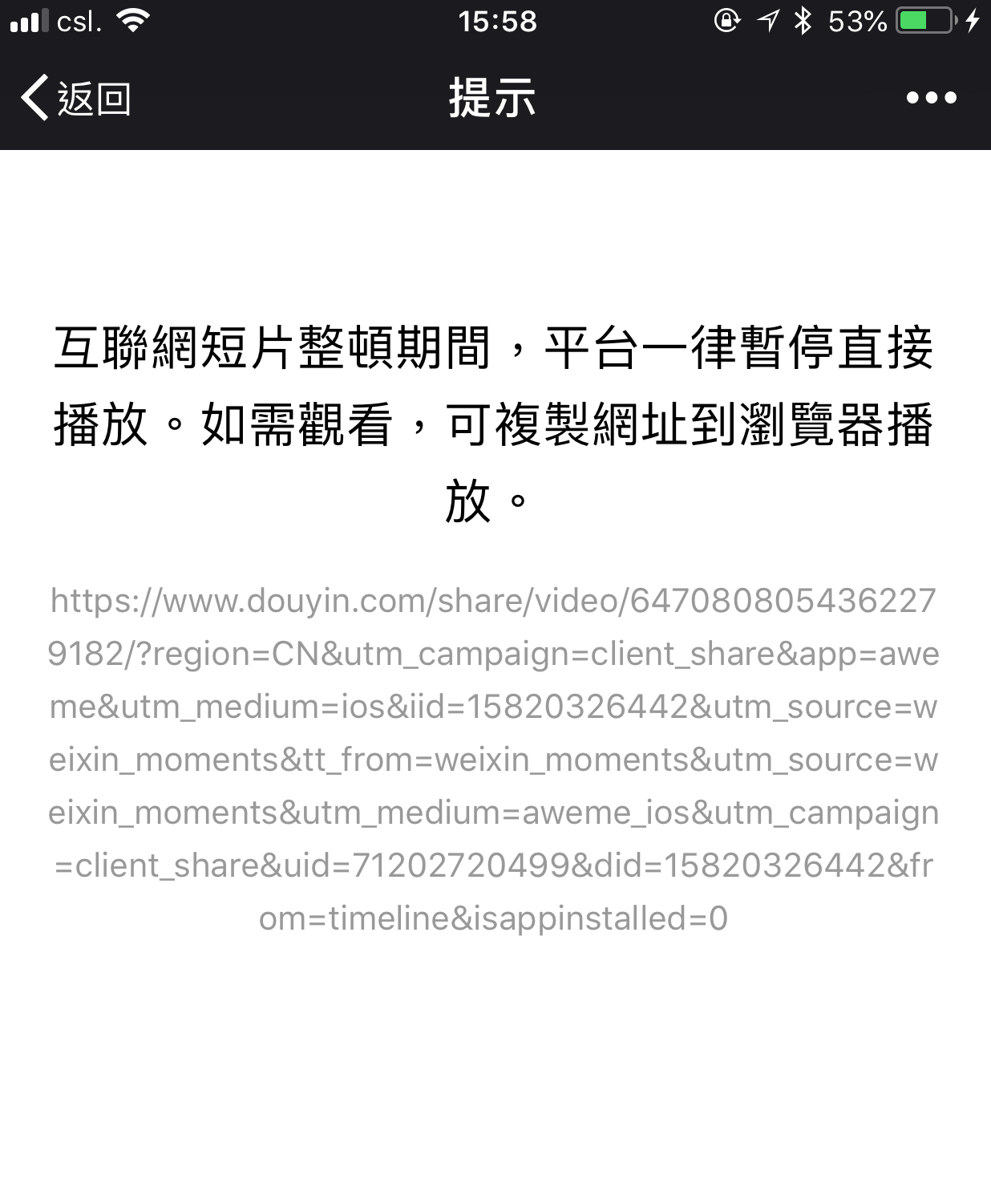 Example of a video shared from Douyin being banned on WeChat. Photo: Screenshot of WeChat
Tencent later clarified in a press release published on April 11th that it's a temporary ban and videos shared from the platforms mentioned above can't be played directly within WeChat and QQ during the ban. This seems to be Tencent's response to the recent censorship of online short video content by the State Administration of Radio and Television.
---
Tips to link or embed e-commerce links on WeChat
For most brands and marketers, their goal is to encourage their WeChat followers to purchase their products or services so adding links to e-commerce sites on WeChat is highly desirable.
Here are some tips to help you link or embed e-commerce links on WeChat.
Taobao and Tmall: Passphrase
As mentioned above, direct links to Taobao and Tmall don't work on WeChat but there's still a way that can send your WeChat followers to your Taobao or Tmall shop.
One magic tool is a Taobao/Tmall passphrase (???). It's a set of random numbers and letters with the ¥ symbol used in place of hashtags before and after it. When users copy it from a WeChat article and then open the Taobao or Tmall app, the app automatically retrieves the passphrase from your clipboard and opens a small window to the correct page without you needing to do anything manually. Passphrases can direct users to the home page of a designated product, a coupon collection page, the home page of the online shop, a campaign page and so on.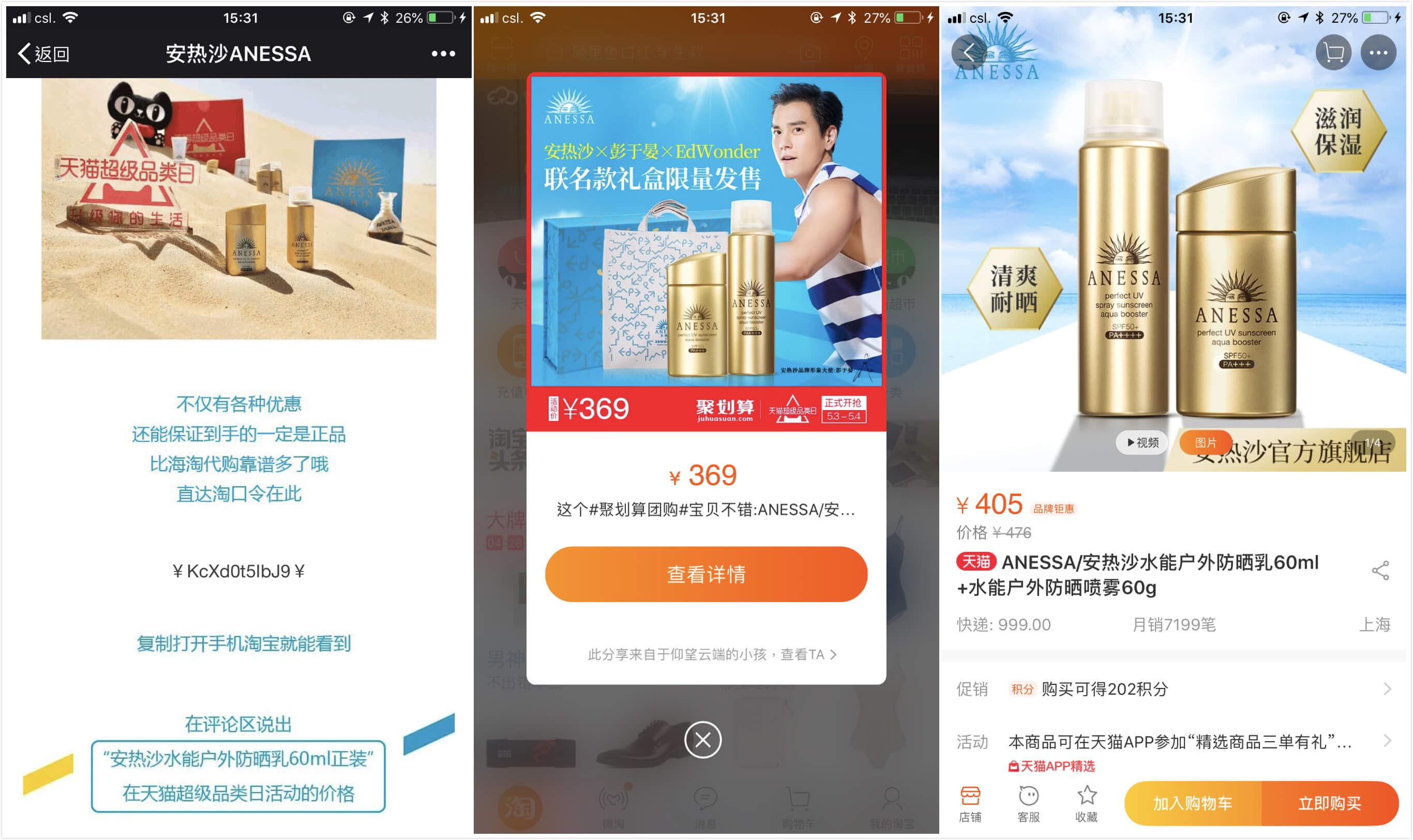 A Taobao/Tmall passphrase allows WeChat users to go to designated pages on Taobao or Tmall. Photo: Screenshot of Taobao
This passphrase can be generated on Taobao and Tmall or on other third-party tools like Qianniu (??) and Taokemiao (???). Usually, a passphrase has a maximum time limit of 15 days. It's a widely-used, powerful tool to send WeChat users to Taobao or Tmall's app.
Some other e-commerce sites: Direct links
WeChat supports direct links to some other e-commerce sites, including but not limited to JD.com, VIP.com, Dangdang, Pinduoduo, Chuchujie (???), Xiaohongshu, Weidian and more. These e-commerce sites have one important thing in common: they either have established strategic cooperations with Tencent or are Tencent investments.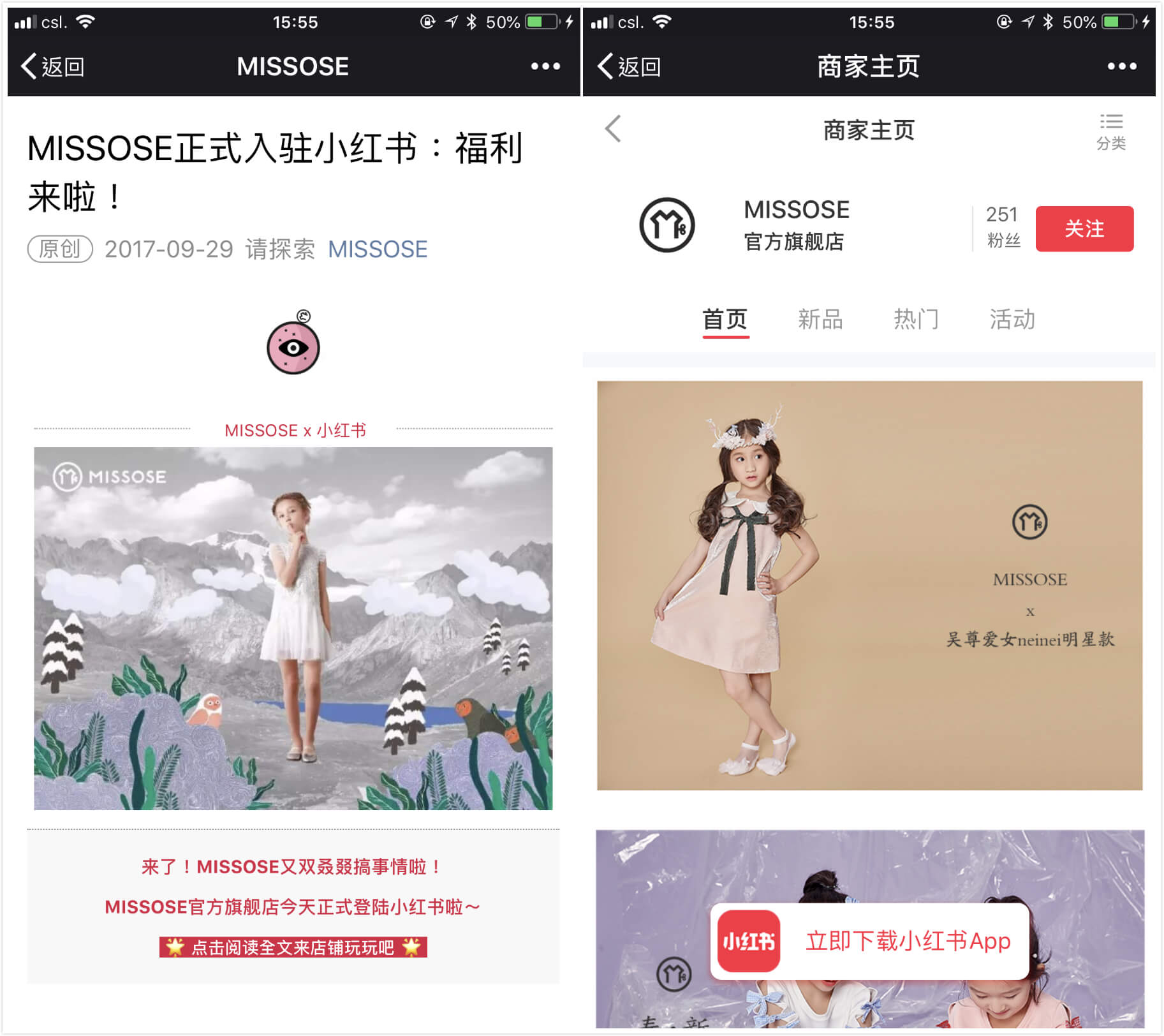 Users can access the brand's Xiaohongshu online shop directly on WeChat. Photo: Xiaohongshu
If brands have their online stores on these platforms, it's much easier for them to add links directly on their official WeChat account without worrying about being blocked. The official e-commerce sites of some larger and more well-known brands also work on WeChat.
---
Within WeChat: Official WeChat stores, mini–programs and WeChat ads
In addition to all the e-commerce sites mentioned above, in WeChat's own ecosystem, there are also features designed for e-commerce purposes. With WeChat Pay integrated, users can finish the whole purchasing process without leaving WeChat.
An official WeChat store (????) can be integrated into an official account so that users can access it via the menu bar or the "Read More" button at the end of a WeChat article.
With the introduction of mini-programs last year, brands now have another option to build their online shops on WeChat. Products being sold in a mini-program can be shared in a card format and inserted in a WeChat article so that when users click the card, they can access the mini-program to view and purchase the product directly.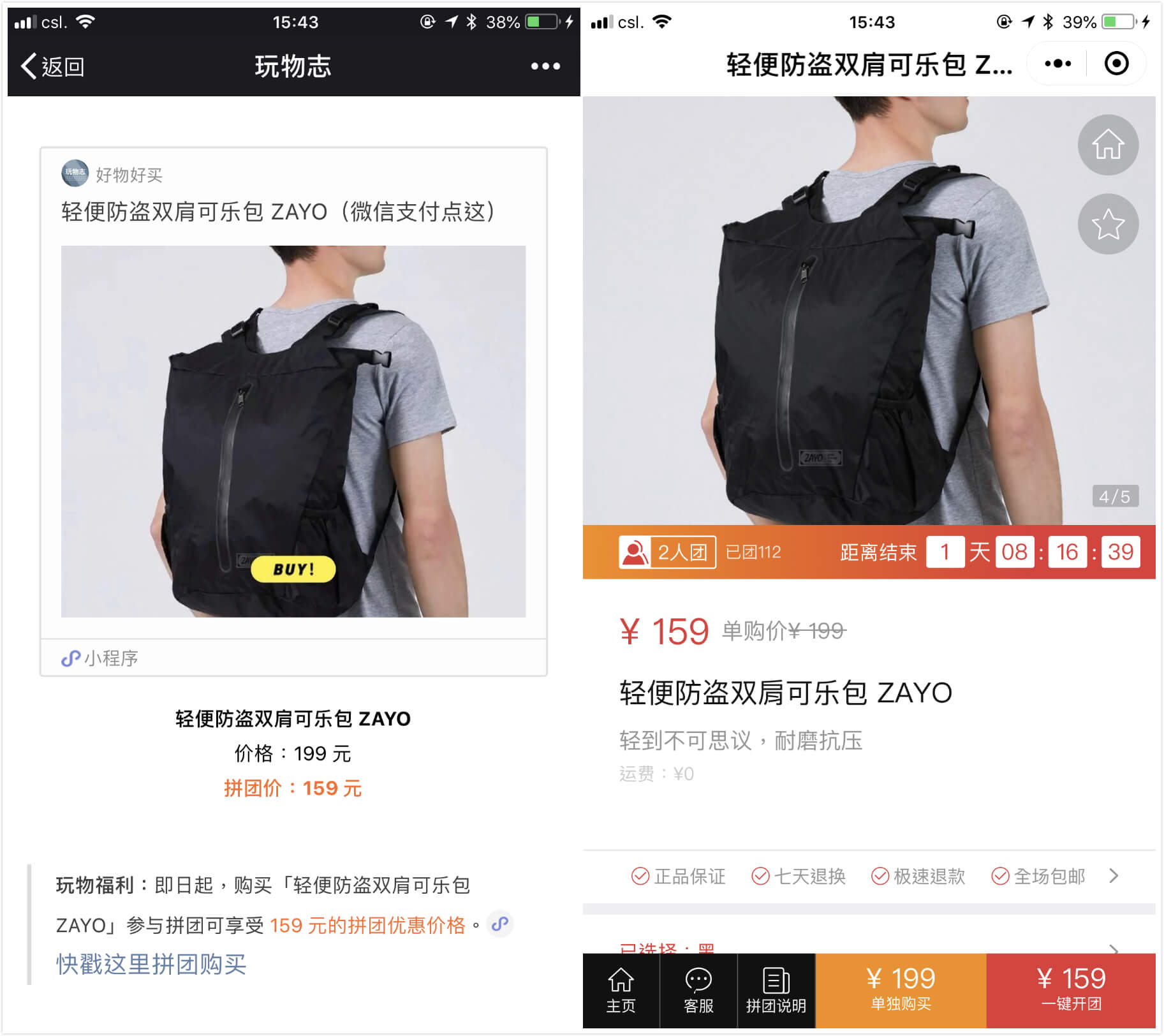 A mini-program card in a WeChat article can be used for product promotion. Photo: WeChat mini-program card
In terms of WeChat advertising, some types of ad formats can be used for e-commerce promotion, including banner ads (??????), mini program ads (?????), and ads that are embedded in WeChat articles (????). Usually, when users click on those ads, they will be directed to an e-commerce site.
External links are important supplements for brands in terms of WeChat marketing. Brands and marketers should be aware of the rules and national policies that may affect the validity of links from external websites and platforms on WeChat.
---
Disclaimer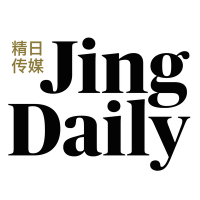 This article <A Comprehensive Guide to External Links on WeChat> was originally published on Jing Daily, written by Ashley Galina Dudarenok.